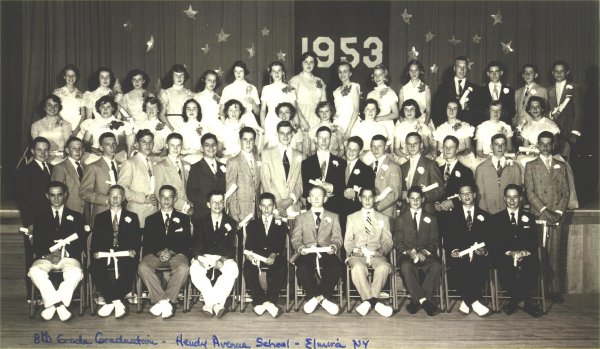 Provided
The Hendy Elementary School class of 1953, from left, front row: George Painton, James McCreight, Harry Haskins, David Titus, Richard Palmer, Wayne Canis, Peter Haskell, Donald Rutledge, John Erickson and Merton Tum. Second row: John Parker, William Treat, Charles Boynton, Dean Arnold, Lloyd White, John Vincent, Larry Merrill, Loring Parker, Peter Drake, Josiah Willard, Paul Looney, Thomas Mauro, Charles Streeter, Donald Crum, Herbert Hoagland. Third row: Gail Petras, Anna Mae Bulow, Marjorie Graham, Marylyn Dewey, Sabina Hanlon, Patricia Halley, Barbara Day, Marlene Lewis, Barbara Kozdemba, Beverly Lockwood, Carolyn Verral, Shirley Kretschman. Fourth row: Martha Young, Kathleen Leahy, Joan Caporiccio, Ruth Dutton, Barbara Watt, Jeannie Phillips, Betty Lou Clark, Sandra Van Houten, Barbara Brinkthaupt, Carolyn Christian, Sandra Seifried, Jerome Whipple, William Nelms, Ronald Landon and Roger Springstead.
In 1953, the graduating eighth-graders at Hendy Avenue Elementary School in West Elmira were the first students to be photographed on the school's newly constructed stage.
Sandra Pautz remembers that the curtains for the new stage had just been hung, and that folding chairs were set up for graduation on a dirt floor because the hardwood gymnasium floor hadn't yet been installed.
Last month, many of those students gathered at Hendy again for a reunion, making them the last group of students to be photographed on the stage before the start of the construction project that will close the building for a few years.
Twenty-five former Hendy classmates, some traveling from out-of-state, met for their 50th anniversary reunion. Most of the students went on to study together at Elmira Free Academy, from which they graduated in 1957. Also joining the class for the reunion was music teacher Jane Dawson and physical education teacher Jack Murray.
Pautz, who was Sandra Van Houten when she went to Hendy, has a long association with the school. Her grandmother retired from teaching at Hendy in June 1945, just a few months before Pautz enrolled in kindergarten there. Pautz's daughters, Caroline Pautz-Fife and Rebecca Pautz-Perry, attended the school, and this September, Pautz's grandson, Andrew E. Fife III, will begin his education at Hendy *.
* All Hendy Avenue School students will be attending Booth School in September 2003 while the Hendy building is being renovated. - (ed.)