Click on photo to enlarge this picture . . .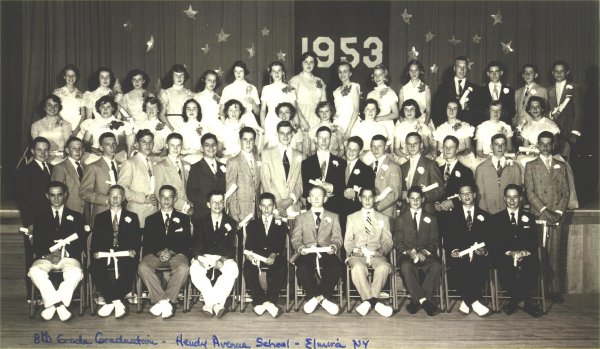 The 8th grade at Hendy Avenue School
Graduation Ceremony
June 18, 1953.
---
1st row (from L. to R.) :
George Painton, James McCreight, Harry Haskins, David Titus, Richard Palmer, Wayne Canis, Peter Haskell, Donald Rutledge, John Erickson, Merton Tum.
---
2nd row (from L. to R.):
John Parker, William Treat, Charles Boynton, Dean Arnold, Lloyd White, John Vincent, Larry Merrill, Loring Parker, Peter Drake, Josiah Willard, Paul Looney, Thomas Mauro, Charles Streeter, Donald Crum, Herbert Hoagland.
---
3rd row (from L. to R.):
Gail Petras, Anna Mae Bulow, Majorie Graham, Marylyn Dewey, Sabina Hanlon, Patricia Halley, Barbara Day, Marlene Lewis, Barbara Kozdemba, Beverly Lockwood, Carolyn Verral, Shirly Kretschman.
---
4th row (from L. to R.):
Martha Young, Kathy Leahy, Joan Capriccio, Ruth Dutton, Barbara Watt, Jeannie Phillips, Betty Lou Clark, Sandra VanHouten, Barbara Brinthraupt, Carolyn Christian, Sandra Seifried, Jerome Whipple, William Nelms, Ronald Landon, Roger Springstead.
---