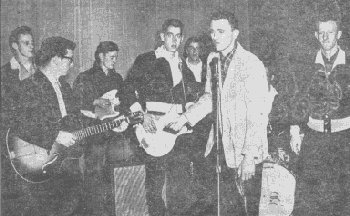 The Deltones were a group of mostly Navy personnel. We were seven enlisted men stationed at Whiting Field in Milton, Florida in 1959. There was an eighth person involved with the band, a self-appointed manager named Johnny Fraser, who always hogged the mike and often took all the money. At its zenith the band had three guitars, bass, tenor sax, drums, three lead vocalists.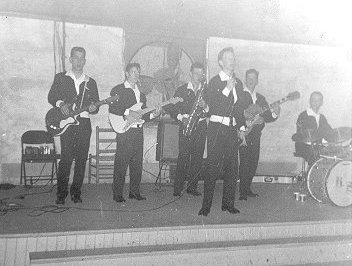 Wendell "Bee" Hall was the lead vocalist and fronted the musical portion of the group when manager, Johnny Frasier wasn't hogging the spotlight. Neither of these two men played any musical instrument but Wendell was a real talent. He did Buddy Holly as well as the original and could match Roy Orbison's range to a tee.
Wayne Smith was from New Jersey and could pick a guitar just like Chet Atkins. I was in awe of his country pickin' technique and remember sitting in the barracks just listening to him play.
J. Buddy Knowland Jr. played rhythm guitar and would often be the lone voice back in the barracks backing up Wayne's guitar picking. He knew all the chords for the songs we played well and a lot more and was a much better musician than I was at the time.
Jackie Morningstar (Willie Morrell) played rhythm guitar and was a lead singer. He was a local (Milton) fellow and the only civilian in the band. He joined a few months or so after the band had been formed. Much later, after the band had broken up, I joined him as a bass player in his trio playing the local spots such as Don's Club 17 with drummer, Ray Solito. Jackie sang a lot of Jackie Wilson tunes and had a marvelous sense of rhythm. Jackie also introduced me to my first live baby alligator in a stream beside his Milton house.
Ray Solito was our drummer and kept us together both musically and otherwise. I remember him as a level-headed guy who was kind of on the quiet side. He played all styles very well, as I recall. Ray was the only one who had a band of his own before he joined the Navy.
Jerry Veight was our tenor player and took a lot of the solos, mostly out of necessity, as our only other lead player, Wayne Smith, often was busy with chords trying to keep us all together.
I played an original Danelectro Longhorn bass which I bought in Pensacola the week after I hooked up with these guys. I had never played electric bass before and my only experience was on the guitar.
I went to a club in Pensacola called the Southland Club and watched the bass player, Hartley Davidson, in Wade Kagel's (pronounced KAY-GILL) band, "The Escorts". It was from watching him I thought I learned "all I needed to know" about playing the bass.
* * *