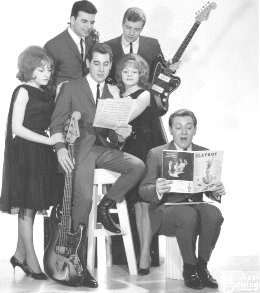 The Coincidentals (1964) featured Sandy Barét (Sandra Guardino), vocals; Nick Roman (Salamone), sax & flute; Pete Haskell, bass; DeeAnna Barét (Diana Guardino Haskell), vocals; Lee Carroll (Leroy Markish), guitar; Stan Robbins (Pembleton), drums.
The group in the photo was an augmented version of a quartet that played at Lulu Belles on Best Street in Buffalo earlier that year.
Nick (Salamone) Roman, reeds and flute, had joined the group along with Lee (Markish) Carroll, guitar, who had replaced Scott Parker, piano, and several guitarists, including Chuck McCormick, at Lulu Belles just before a big road trip for the spring, summer and fall of '64.
Sandy Barét, Dee's twin sister, was coaxed into joining us on the road in Keansburg, NJ in July of '64.
Gabe Garland was our agent then and he arranged a tour for us for the better part of 1964. We played in eastern Pennslyvania (Williamsport, Scranton, Wilkes-Barre, Shamokin Dams, Lancaster),in New Jersey (Keansburg, Jersey City, Lodi, and Browns Mill) and Virginia Beach, VA.
The Keansburg gig was for the bulk of the summer and we rented a house where the entire band stayed. Sandy joined us there in July and we sweltered through the heat of that New Jersey summer playing seven nights a week plus a Sunday matinee at Casey's on the boardwalk.
Dee and I were married at the end of the Keansburg gig in September at St. Peter's Episcopal church in Manhatten. It was so hastily arranged we had to grab two guys off the street to act as witnesses.
(Editor's Note) It may be interesting to note that this was a time when unmarried men (18-21) had to register for the draft. Most unmarried single men had to do compulsory service. I had been in the US Navy from 1957 thru 1960 so this was not an issue for me. But a lot of my young sidemen were affected. Both Lee and Nicky made arrangements to marry girls from Buffalo while we were playing at Corky's in Scranton. These "marriages" were made with the understanding that they would not be permanent and, as expected, they weren't.
There was a lot of tension within the group that summer and, in hindsight, I believe most of it was due to my romantic relationship with Dee. I suspect the guys felt some favoritism was afforded the twins and, in that regard, there probably was. I often felt I was between a rock and a hard place.
The guys finally delivered an ultimatum at the end of the booking and basically told me that for them to continue working for me I had to make a choice. I sided with the twins and the band, as pictured, broke up in the fall of '64.
The Twins and I went on to Greenland and Iceland with a trio of musicians from Reading, PA and the guys went back to Buffalo.
* * *